BRAZILIAN GP
| HIGHLIGHTS | PICTURES | RACE TIMININGS | OTHER GPS |
The Brazilian GP is always a test for the new chassis and engines of theseason, as the GP always is at the beginning of the season. The track is very bumpy indeed, and drivers are complaining about it for years now. This circuit is one of the few that still provides a lot of overtaking possibilities.
Sao Paulo has hosted the Brazilian Grand Prix at the Interlagos circuit for some time now. Despite the city's vast poverty, the Grand Prix always receives big support from the local community.Located ten miles south of central Sao Paulo, the track is named after Carlos Pace who won here in 1975. It has staged the Brazilian GP since 1991. The track was resurfaced for the 1995 season and re-worked for the 1997 race, but the majority of drivers complain that it is still extremely bumpy. It remains one of the most tiring circuits that taxes even the fittest of drivers, not least
because it undulates throughout its course. Cars will generally be set with a medium amount ofwing, with downforce settings ranging from medium to high. The high humidity and track temperatures during March normally ensure that cars are set to maintain maximum grip on the
track.
CIRCUIT MAP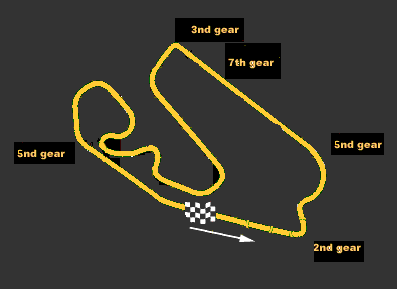 Set up :
This undulating circuit requires medium wing levels, for medium to high downforce. Medium to soft suspension settings are needed for maximum grip.
The track :

Track:
4,325 km , Interlagos

Pole Position 99 :
Mika Hakkinen - McLaren

99 winner:
Mika Hakkinen - McLaren
Time-table :

Friday April 10th
11.00-12.00 and 13.00-14.00
Free practice
Saturday April 11th
09.00-09.45 and 10.15-11.00
Free practice
13.00-14.00
Qualifying - 12 laps allowed per driver
Sunday April 12th
09.30-10.00 Warm-up
14.00 Brazilian GP
71 laps , 307.057km
All times are local - GMT -03.00
Tickets :
We recommend : The F1 Tickets Web site at www.f1-tickets.com
Sign My Guestbook



View My Guestbook