SPANISH GP
| HISTORY | HIGHLIGHTS | PICTURES | RACE TIMININGS | OTHER GPS |
This race is held in Barcelona, Spain and is the fourth race in the F1 calender. This
circuit has been in the racing calender since 1991. The circuit is 4.7 m long and a
total of 65 laps have to be completed to decide the winner.This circuit has no sharp
corners like monaco and you have to judge yourself well taking the corner as you
the understeer can take you of the track at that speed can be disasterous. This racing
track is one of the favorites for testing of the tyres as well as for performanceon the
engine, it is a very abrasive circuit which means that pit stop stratergy plays a major
role in the Catalunya circuit.Also along with tyre wear there is heavy understeer so
cars have to be well set up for this.Mclaren won the race last year comprehensively
from Ferrari and this year may be no different.
CIRCUIT MAP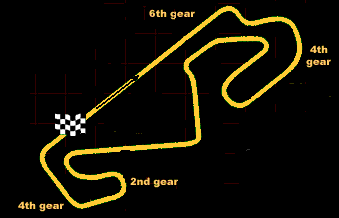 Set up
this circuit due to the understeer requies lots of downforce so the wings are set to it.Also due to the circuit being hard on the tyres, you need hard compound tyres.
Track:
4.7 km , Barcelona

Lap record
Gian Carlo Fischella 1:22:242

Pole Position 98 :
Mika Hakkinen - McLaren

98 winner:
Mika hakkinen
Time-table :
Friday MAY 28th
11.00-12.00 and 13.00-14.00
Free practice
Saturday MAY 29th
09.00-09.45 and 10.15-11.00
Free practice
13.00-14.00
Qualifying - 12 laps allowed per driver
Sunday MAY 30th
09.30-10.00 Warm-up
14.00 SPANISH GP
65 laps , 307.057km
All times are local - GMT -03.00
Tickets :
We recommend : The F1 Tickets Web site at www.f1-tickets.com