Schumacher to race after all
MARANELLO, Italy, Oct 8 - Ferrari made a dramatic about turn on Friday when they revealed that Michael Schumacher would race for them in the final two Grand Prix of the Formula One season. Just five days ago the Italian stable said Schumacher had not recovered enough after breaking his leg at the British Grand Prix in July and would sit out the races in Malaysia on October 17 and Japan on October 31. But after testing at the Mugello and Fiorano circuits interrupted only by a quick visit to Rome to meet Pope John Paul the German double world champion appears to have made a miraculous recovery. "After three days of intensive training at Mugello and Fiorano, Michael saw that there had been a big improvement in his physical condition and therefore he has decided to take part in the two final and very important races of the season,'' the team said in a statement."He will compete to give the maximum support to Ferrari in the fight for the championships and to fulfil the wishes of the team and all the fans.'' Schumacher said after undergoing medical tests in Paris on Sunday that he was in no state to compete in the Asian races.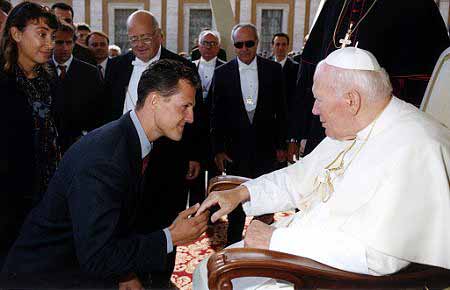 He suffered a further setback on Monday when he span off the track after 15 laps of testing at Mugello, emerging unscathed but slightly damaging his car."My physical condition is not what it was,'' he said. ``I can't train hard and, in this condition, it would make no sense to return to competition.'' Two days later Schumacher was at the Vatican where he kissed the Pope's hand in St Peter's Square and pronounced it the happiest day of his life. On Thursday he showed a dramatic recovery, completing 58 laps in an impressive tyre testing session and breaking the F399 car's existing lap record at Ferrari's Fiorano circuit. In Asia, Schumacher will drive alongside Britain's Eddie Irvine, who is on 60 points, two points behind McLaren's Finnish champion Mika Hakkinen in the world championship standings. Schumacher, who is in sixth place on 32 points, will take the place of Finn Mika Salo, who has deputised for the German since his crash at Silverstone on July 11.