Irvine makes surprise appearance at Ferrari appeal
PARIS, Oct 22 - Briton Eddie Irvine, fighting to retain his chances of winning this year's Formula One world title, made a surprise appearance on Friday at the appeal hearing over Ferrari's disqualification from the Malaysian Grand Prix.Irvine joined Ferrari sporting director Jean Todt, technical director Ross Brawn and other team technical experts at the International Automobile Federation (FIA) hearing before five judges.The judges were named by FIA as chairman Jose Maceda e Cunha of Portugal, Austrian Gerhard Nurscher, Philippe Roberti de Winghe of Belgium, Greek Vassilis Koussis and Jan Van Rosmalen of the Netherlands.Irvine won Sunday's Malaysian Grand Prix with Ferrari's other driver Michael Schumacher second but both were disqualified after a technical inspection showed their cars infringed design rules.The decision meant Finn Mika Hakkinen, who placed third in the race, was promoted to first place, giving him enough points to retain his world title before the last race of the season, the Japanese Grand Prix on October 31.Should Ferrari succeed in their appeal, Irvine would start the last race four points ahead of McLaren driver Hakkinen with the title still at stake.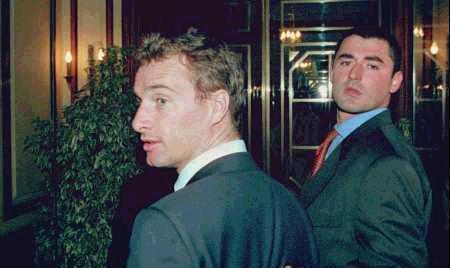 Ferrari driver Eddie Irvine, left, is lead inside the FIA offices in Paris Friday, Oct. 22, 1999,
Neither Irvine nor any of the other Ferrari representatives spoke as they fought their way through a media scrum outside the Hotel Crillon on the Place de la Concorde where the hearing is being held. Schumacher did not attend.Motor racing sources said Irvine, who arrived early in the morning in Paris, had not been expected even by his team.McLaren director Martin Whitmarsh and Paul Stewart, chief operating officer of the Stewart Formula One team, also attended.Stewart said on his way in: "The rules must be respected.''The appeal decision, due to be announced by FIA at 0900 GMT on Saturday, will affect the constructors' title and standings as well as the drivers' title.At issue is the size of the barge boards on the Ferrari cars. The boards, fitted behind the front wheels to improve air flow and stability, were one centimetre too short in Malaysia.Ferrari, who arrived with Swiss lawyer Henri Peter, are expected to argue that the technical fault was a simple oversight and gave the car no race advantage.One of the Ferrari delegates carried a suitcase, thought to contain one of the barge boards.