MALAYSIAN GP
| HISTORY | HIGHLIGHTS | PICTURES | RACE TIMININGS | OTHER GPS |
This race is new in the racing calender just added in the year 1999, this race is located in Sepang in Malaysia, south of Kuala Lumpur.The new circuit was started in 1997 and was opened on 9th March 1999 at a cost of $120 million. It was the result of a visit made to the Portuguese Grand Prix by Malaysia's Prime Minister, Dato' Seri Dr Mahathir Mohamad, a motor racing enthusiast himself. Recognising the publicity to be gained world-wide from hosting a national Grand Prix he began negotiations with Formula1 supremo Bernie Ecclestone, who emphasised the need for an Asian venue. This circuit which is 5.543 km long consists of 2 long straights one at the begining and at the finish mixed with a combination of sweeping bends and tight cornors which makes it quite a nice circuit for driving, 55 laps have to be completed to declare a winner.The stadium consists of a welcome center from where you enter the stadium and from where you proceed to the Main grand stand or the Natural grand stand. The track which is new means that there will be less tyre wear and a lot will depend on pitstop stratergy for this race.This circuit has one of the best and most modern service facilities . Bridgestone are bringing the same two tyre compounds used at Nurburgring and hence the teams will probably be trying to make the most of the super soft rubber. This may lead to two stop strategies, However, a variation may be made by some teams running the slightly harder tyre and trying one stop.
FEATURES
there are no other Formula1 tracks with their two longest and fastest straightest joined by a hairpin of more than 300 degrees.
This track has the longest pitlane among all the circuits
CIRCUIT MAP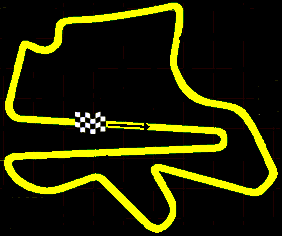 Tuneup
This circuit will present an interesting challenge for the engineers as speed on these straights will be essential because they both lead to overtaking opportunities whereas much of the rest of the circuit will require high downforce and maximum grip. We estimate that the optimum downforce level is in the medium to high range, somewhere close to Silverstone and Barcelona, although this is largely dependent upon circuit grip available from the tyres.