ITALIAN GP
| HISTORY | HIGHLIGHTS | PICTURES | RACE TIMININGS | OTHER GPS |
The Italian Grand Prix at Monza has a long and illustrious history, fifteen miles north-east of Milan, Monza was built in 1922. The Italian Grand Prix has been staged here for all but one year since the World Championship was introduced in 1950. The circuit is the second fastest on the calendar, and requires minimal downforce and high power.This circuit has a 5.8 km long circuit and a total of 53 laps has to be completed to declare a winner. Most teams are on the hard tyres and a one-stop strategy, Several drivers go off under braking at the first and second chicane and a
couple also go wide on the exit of the Lesmo corners.1998 saw the ultimate result for Ferrari, with Michael and Schumacher finishing one-two. The modern day autodromo combines fast, sweeping corners and long straights, with Parabolica and Lesmo two of the more famous. Downforce requirements are normally low with stiff settings on the car to help ride some of the big bumps that the circuit is notorious for. The low wing levels make grip poor in the low-speed turns, which can create problems for drivers who brake too late into them.
CIRCUIT MAP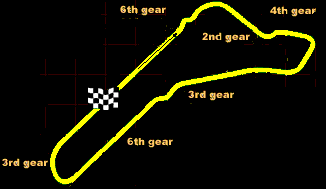 Set up
this circuit due to the understeer requies lots of downforce so the wings are set to it.For this circuit teams often opt for soft set-ups that will prolong tyre life.
Track:
5.8 km , Monza

Lap record
Micheal Schumacher

Pole Position 99 :


99 winner:
Time-table :
Friday MAY 28th
11.00-12.00 and 13.00-14.00
Free practice
Saturday MAY 29th
09.00-09.45 and 10.15-11.00
Free practice
13.00-14.00
Qualifying - 12 laps allowed per driver
Sunday MAY 30th
09.30-10.00 Warm-up
14.00 SPANISH GP
65 laps , 307.057km
All times are local - GMT -03.00
Tickets :
We recommend : The F1 Tickets Web site at www.f1-tickets.com