HUNGARIAN GP
| HISTORY | HIGHLIGHTS | PICTURES | RACE TIMININGS | OTHER GPS |
This race is held just twelve miles to the north-east of Budapest, Hungary and is the
fourth race in the F1 calender. The Hungaroring circuit has been in the racing calender
since 1986 . The circuit is 4.0 km long and a total of 77 laps have to be completed to
decide the winner.This circuit is very much like a combination of brazil and monaco as
this circuit is bumpy and dusty making it slippery and there is not much place to overtake
so the higher you are on the grid the better your chances of ending up in a strong
position, thus making this circuit very physically challenging. In 1998 the circuit was invaded
by fans coming on to the track at the end of the race which could have proved disasterous,
and the organisers were slapped with a $1 million dollar fine.inspite of there being no fast
corners and no place to overtake this circuit has been in the F1 calender ever since.
Micheal Schumacher won the race in 1998.
CIRCUIT MAP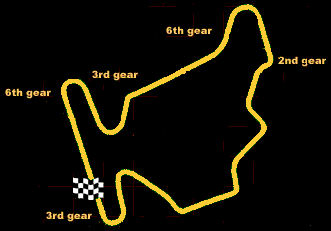 tune up
This circuit is slow and bumpy and has high downforce, mechanical grip set for this dusty slippery circuit.
Track:
4.0 km ,Hungaroring

Lap record
Nigel Mansell 1:18:308

Pole Position 98 :
Mika Hakkinen - McLaren

98 winner:
Micheal Schumacher
Time-table :
Friday MAY 28th
11.00-12.00 and 13.00-14.00
Free practice
Saturday MAY 29th
09.00-09.45 and 10.15-11.00
Free practice
13.00-14.00
Qualifying - 12 laps allowed per driver
Sunday MAY 30th
09.30-10.00 Warm-up
14.00 SPANISH GP
65 laps , 307.057km
All times are local - GMT -03.00
Tickets :
We recommend : The F1 Tickets Web site at www.f1-tickets.com