GERMAN GP
| HISTORY | HIGHLIGHTS | PICTURES | RACE TIMININGS | OTHER GPS |

This race is held in Hockenheim, Germany and is the Tenth race in the F1 calender.
. The circuit is 6.2 km long and a total of 45 laps have to be completed to decide the winner.Located some fifty miles south of Frankfurt, the circuit was originally built as a test circuit for Mercedes
cars. The German Grand Prix has been staged here since 1986 and it is, for the majority, an
open circuit that is very fast throughout. The exception to this is the stadium complex near the
starting grid where the track twists back and forth through 360 degrees in front of the
grandstands.
This makes it a very difficult circuit to set up for. At over 6 km in length, it is one of the longest Grand Prix circuits, and it is often more infamously remembered as the circuit that took the life
of Jim Clarke in April 1968. Weather is often very changeable as the circuit winds its way through
dense pine forests which can create dangerous patches of fog and mist.
CIRCUIT MAP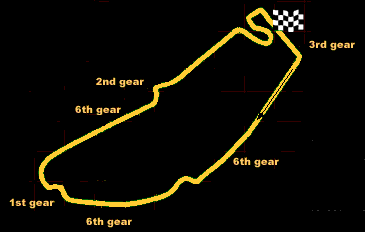 Set up
Car settings are compromised for top speeds down the straights and downforce on the slow corners.
Track:
6.2 km , Nurbergrid

Lap record
David Coultard 1:46:211

Pole Position 98 :
Mika Hakkinen - McLaren

98 winner:
Mika hakkinen
Time-table :
Friday MAY 28th
11.00-12.00 and 13.00-14.00
Free practice
Saturday MAY 29th
09.00-09.45 and 10.15-11.00
Free practice
13.00-14.00
Qualifying - 12 laps allowed per driver
Sunday MAY 30th
09.30-10.00 Warm-up
14.00 GERMAN GP
65 laps , 307.057km
All times are local
Tickets :
We recommend : The F1 Tickets Web site at www.f1-tickets.com