EUROPEAN GP
| HIGHLIGHTS | PICTURES | RACE TIMININGS | OTHER GPS | CARTOONS |
Built amid the remains of the old Ring in the wooded Eifel mountains south of Cologne.The old track was regarded as the most challenging, even dangerous track in the world until it was taken off the calendar in 1976 following Austrian Niki Lauda's near fatal crash. Lauda suffered severe burns and was saved by four fellow drivers who dragged him from his blazing car. Briton James Hunt gave McLaren their first win at Nuerburgring in that race. The new, shorter track opened again in 1982 and Formula One returned for the 1984 and 1985 seasons. The race is held at the new Nurburgring circuit which is designed using all the latest safety precautions.Despite being situated in Germany, about 55 miles south-west of Cologne, the Nürburgring is staging the Luxembourg Grand Prix. The circuit was opened for Grand Prix action in 1984, when Alain Prost won the European event. 67 laps have to be completed to declare a winner on a 4.6 km track.Watch out for collisions at the first chicane on the first lap. Situated in beautiful countryside, the Nurburgring is fast with wide run-off areas and large gravel traps.The circuit contains a blend of fast straights with a lot of understeer .Micheal Schumacher has won twice on this circuit since the track opened in 1995.
Feats at this circuit:
Briton Jackie Stewart won here in 1968 after driving through fog with his wrist encased in plaster.
Juan Manuel Fangio had what is held to be his greatest win at the Nuerburgring in 1957,breaking the
lap record 10 times to catch and overhaul Ferrari rivals Mike Hawthorn and Peter Collins after
lagging them by more than 48 seconds.



CIRCUIT MAP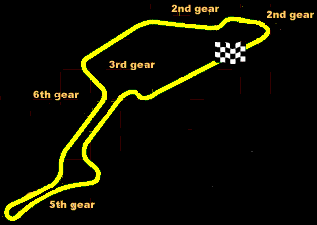 Tune up :
Its twelve corners and curves make for an exciting race, especially as cars generally suffer with understeer problems which can make handling problematic. Medium downforce settings are normally employed.
The track :
Track:
4,40 km ,

Lap record
H H Frentzen 1:18.808

Pole Position 99 :


99 winner:
Time-table :
Friday April 10th
11.00-12.00 and 13.00-14.00
Free practice
Saturday April 11th
09.00-09.45 and 10.15-11.00
Free practice
13.00-14.00
Qualifying - 12 laps allowed per driver
Sunday April 12th
09.30-10.00 Warm-up
14.00 European GP
69 laps , 305.059 km
All times are local
Tickets :
We recommend : The F1 Tickets Web site at www.f1-tickets.com
| ARTICLES | TEAMS | CIRCUITS | ALLTIMECHAMP | BOOKSTORE | STATISTICS |