CANADIAN GP
| HIGHLIGHTS | PICTURES | RACE TIMININGS | OTHER GPS | CARTOONS |
The Circuit in Montreal named after the late great Gilles Villeneuve,
(father of Jacques Villeneuve)It has staged the Canadian GP
since 1978. This circuit is 4.4 km long with long straights and fast
sweeping corners and is a circuit whichmost drivers enjoy.
Located on the Ile Notre Dame, the circuit is withineasy reach of the
Montreal city centre. It has a picturesque backdrop which includes
views of the Lawrence River and the old Olympic Rowing Basin
.The 1st to complete 69 laps is the winner, In 1998 this GP witnessed
one of the worst crashes at the start, causing total carnage with cars barrel rolling
and landing on one another. Eventually, it was Michael Schumacher who
wonfollowed by Giancarlo Fisichella and Eddie Irvine. Braking is
important as you come at high speed in 6th gear at 200 mph and have
to negotiate a corner at 38 mph, which is why the braking should be optimal.

CIRCUIT MAP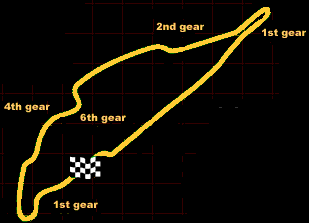 Tune up :
Medium to soft suspension settings are needed for maximum grip
due to the dust and wind which makes the circuit slippery. Also we
need optimal braking for the circuit with equally fast and slow
corners present in the circuit.
The track :