BRITISH GP
| HISTORY | HIGHLIGHTS | PICTURES | RACE TIMININGS | OTHER GPS |
Silverstone isone of the world's & Britainís longest continually used
race circuit and staged the first-ever British Grand Prix in 1926.
This race is held in Silverstone,Northamptonshire.Silverstone has been
hosting this race in the F1 calender since 1987(i.e. the new circuit) and is
the 8th race in the F1 calender.Operated and owned by the British
Racing DriversíClub, Silverstone held the first-ever round of the
World Championship in 1950. It has undergone design revisions in recent
years, with changes made to a number of corners. The circuit is
5.140 km long and a total of 60 laps have to be completed to
decide the winner. Not particularly challenging as a race circuit. The circuit
is laid with Prixmat(stone mastic asphalt) and is quite smooth so teams
opt for medium to hard settings for maximum grip.Temporary Grandstand
capacity of the stadium is 32,904 and Total seated capacity can
accomodate 50,389. The Pit Lane/Paddock is designed to Formula 1
standards. Covering an area of 6 hectares (14 acres) with 39 permanent
pit garages and a fully equipped scrutineering bay. won the race last
year comprehensively from Ferrari and this year may be no different.
CIRCUIT MAP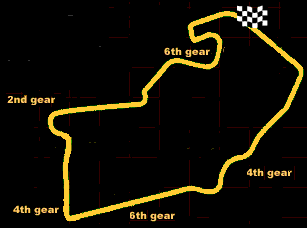 tuning
this circuit due to the understeer requies lots of downforce so the wings
are set to it.Also due to the circuit being hard on the tyres, The circuit
can be heavy on tyres so teams often opt for soft set-ups that will prolong tyre life.
Track:
5.140 km , Silverstone

Lap record
Micheal Schumacher 1:24:47

Pole Position 99 :
Mika Hakkinen

99 winner:
David Coultard
Time-table :
Friday MAY 28th
11.00-12.00 and 13.00-14.00
Free practice
Saturday MAY 29th
09.00-09.45 and 10.15-11.00
Free practice
13.00-14.00
Qualifying - 12 laps allowed per driver
Sunday MAY 30th
09.30-10.00 Warm-up
14.00 BRITISH GP
60 laps
All times are local
Tickets :
We recommend : The F1 Tickets Web site at www.f1-tickets.com
Sign My Guestbook



View My Guestbook